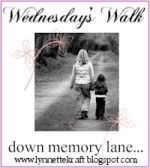 I am new to Wednesday Walk Down Memory Lane, but here goes nothing...
Four years ago today I graduated college. It was Friday, May 13, and we were graduating, Johnson Bible College, Class of 2005. Funny that a Bible College would have graduation on Friday the 13th, but even funnier that my mailbox number in college was 666. Not even kidding!
I sat next to two of my best friends, Jeremy on one side and Martha on the other. We were in the "M" section, since my maiden name is May. We all were graduating with double majors in Bible and Counseling. We had shared a lot. Johnson Bible College (JBC) is in Knoxville, TN, placed right on the side of a mountain, overlooking the city, and is one of the most beautiful places on earth. The first time I went to visit, I just knew I was going to attend college there. That was the only school I applied to, and got accepted early. I was so excited in fact that I graduated in three years with a Bachelor's degree. A lot more went into the early graduation thing, but I am still pretty proud of myself.
JBC is small, and considered a private college, but it had so much diversity. I went to school with missionaries, inner-city kids, kids like me, and kids who have so much musical and speaking talents that I am still amazed by them. We went to chapel 4 days a week, because we did not have school on Monday. We just had four day weeks, and it was great. I was seven hours from home and loved it! I also went with my best friend, and my boyfriend (now husband) was there too.
Fast forward to graduation...We were the first class to have graduation off campus, and I didn't mind. Some people made a stink about it, but doing it this way meant all our families could come and see us. I remember when we were practicing telling myself, don't trip, don't trip! Then what do you say to the President of the school, thank you, not say anything, all of these thoughts raced through my mind!
Well graduation went off without a hitch, I got my diploma, got a little recognition for graduating early (thanks Dr. Beam), and then I got married two weeks later, went on a honeymoon, then moved to Cincinnati for our first ministry.
A lot has changed in four years, marriage, had a baby, moved to another state, then another state, I am back in school going to graduate this summer with a master's in Counseling, then who knows what. The one that has stayed constant is my faith and trust in God. I thank him (not enough) for my time at JBC, I have wonderful memories there, and I love it so much!