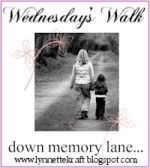 For Today's Walk Down Memory Lane it only seems fitting to talk about my wedding day, since tomorrow is our 4 year anniversary. My wedding was pretty plain, nothing too fancy, nothing too extravagant, just two kids, madly in love, making a lifelong commitment to God, and our families. Let me back the train up just a little bit. It all started when...
I was in third grade, my friend invited me to go to church with her. My church I guess was too boring for her to come to, so I agreed to go with her. I met this boy there, he was in fourth grade, and I went home and told my parents that night I was going to marry him. Clearly they thought I was delusional, I must have drank the kool-aid at church, and just laughed. I was dead serious, I knew I was going to become Mrs. Eric Ferguson, some day.
Fast forward to middle school, by this time my parents were attending the church that my friend invited me to, see it was cooler then ours, and Eric still did not like me. I did everything to annoy him, I mean show him my love, and he still dissed me. Eric would tell his mom how much he did not like me, I would tell my mom how madly in love I was with him.
Fast forward to the Summer of '99...a lot had changed in both of our lives, my brother had died the summer before, and Eric actually was with me at church camp when I got the news, he even came to the hospital 2 hours from our house to visit me. But he still was holding strong with how much I annoyed him, and wouldn't leave him alone.
Well friends that Summer of '99, hook, line, and sinker, I finally caught him. We have been together ever since.
Now, it's our wedding day! I wanted to marry Eric when I was 15, so waiting until I was 21 felt like an eternity. Our wedding was fine, it rained really hard in the morning, then the sun came out and it was nice the rest of the day. My dad couldn't find his pants, Eric's grandma was late to the wedding, and I was clearly oblivious to it all, because I was so excited to finally become Mrs. Eric Ferguson. I slept great the night before, and I wasn't nervous at all. Our youth minister performed our wedding, well now he is a Sr. Minister, and is our best friend. But he was the one in charge of us back in third and fourth grade. We laughed a lot during the wedding, and a lot of stories were shared. The only "unplanned" thing that happened was our unity candle didn't light, to which I looked at the minister and said "does that mean we aren't united?!" Maybe I was a little nervous. Then when Eric kissed me, he pulled my vail out, and all I could think was, "I hope all of my hair does not come down with it!"
Now fast forward 4 years down the road...we are still married, have a beautiful daughter, serving God together, and looking forward to the next 4 years, and all of the years to come after that.