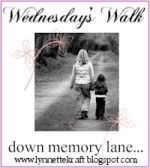 Happy Father's Day! So I know this picture is of me, I had one of Eric and Molly first, somehow I have managed to erase it, oops! Sorry Eric! But for today's walk I want to talk about fathers here on earth and most importantly our father in heaven.
I framed this picture above for Eric last year and also included Molly's hand and footprints. My, how they grow. My little girl no longer looks like this baby in the picture. Now she has hair, thinned out, and somehow sprouted a neck. Her head looks attached to hear body somehow, but don't worry, she has a neck now.
Last year on Father's Day I wanted Eric to feel so special and so very appreciated. I think he is a great dad, a loving father, and most importantly he seeks God daily to make his family better. Now there are definitely times I would totally do something different then the way he does it, but I guess what is most important is that the job at hand gets done. I feel like Father's Day was created in part to buy expensive $4.99 cards from Hallmark, but they always seem to say it best, right...also to let the Dads out there know they King for a day. I hope I make Eric feel like this everyday.
I also think Father's Day should be celebrated with our heavenly father too. If it was not for him we would not be celebrating these wonderful men in our lives. We would not be able to celebrate life, think how boring it would be without God. I hope Molly understands that it is important to honor her father on this special day, and everyday, but it is most important to remember to honor God on this day too. He is our ultimate, perfect father, and we should always acknowledge that.
I know some people did not have a "good" dad growing up, and for that I am so sorry. But please know you have a dad in heaven waiting for you to bring home an A on a test, waiting for you to ask advice, seek counsel, gain wisdom from him, he is always there for you. Sometimes I have to remind myself of that.
So on this Father's Day, do something extra special for the men in your life, and in your children's lives, but make sure to do something spectacular to honor your eternal father too.