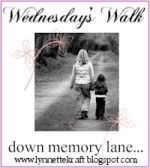 I figured for today's Walk, I would write about what has had me so busy these last few days. Right now I am in grad school, working on my Master's in Clinical Christian Counseling, and working on obtaining my license to practice counseling. Once I am finished, which will be in August, don't ask what my plans are, because I have no clue. This whole thing has been orchestrated by God, not me, never me, all God. It all started...
When I enrolled at Johnson Bible College (JBC) there were few majors to choose from. There still are, that's why I love it, they are doing few things, but with excellence. So I knew I didn't really want to be a teacher, plus the Education program there is seriously torture for the years you endure it, but then at the end there is a list of schools that are requesting you to come work at. So I guess it's all worth it. Then there were your obvious preaching, missions, youth ministry, and children's ministry degrees. I wasn't very interested in those either. Then there were a couple more, but I chose counseling. I knew I wanted to help people, from an early age I knew that. I always thought I would be a social worker, or something along those lines. I really just figured, I will do this program and figure it all out after I graduate, and more importantly, after I get married.
Then my junior year of school I had this professor, who taught part-time at JBC, and then had her own counseling practice. To listen to her stories of healing, hope, and the power of Jesus, I was moved. I remember sitting in her class on a Wednesday morning to be exact, fall semester, and I thought I never would be a counselor, I don't know all the answers, then after listening to her all I could think about was being a counselor, and my life has never been the same.
I couldn't wait to get to her class and listen to her stories, her real life experience with this counseling stuff, and how God always shows up in her sessions. I still remember some of her stories to this day. I long to experience God in a session with a hurting person.
So I graduated, and Eric and I moved to Cincinnati for our first ministry. I wanted so desperately to get my master's in counseling because truly, with just a bachelors in it, you can hardly do anything. At least I never really found anything that seemed to match my desire to be a counselor, without a master's degree. I had the opportunity in Cincinnati to pursue my master's, we were only 20 minutes away from Cincinnati Christian University. I went down with Eric to visit, and interview for the program, but first off, it was no JBC master's program, that sadly all my friends were enrolled in at the time. And second off, I just didn't feel like it was a good fit for me, for our ministry, and overall it just didn't feel right. So I took a regular, 9-5 job, and tried to use my passion to help people in our ministry. I did learn that you don't have to have a master's degree to pray, encourage, and help the hurting.
Then we had Molly, moved here, and all of a sudden I got the urge to help again. This time I couldn't get rid of it, it was everywhere I went, all I thought about. Then I found this program, I applied, got accepted, and started working on my master's and license.
That was all in February of 2008, and hopefully all of my hard work will pay off in August. Seriously though, it's not my hard work, it's the passion that God has instilled in me. I want to use this passion as a ministry all for God and his people. I am being 100% honest when I say, if I never make a dime counseling people I really don't care. God has always provided for us, especially in the beginning of this endeavor. The program I am in, they don't have financial aid, so you front all of the costs. That was very daunting for us, and almost a reason for me not to pursue it. We are a one income family, in the ministry, need I say more. We took a step of faith and said if this is all from God, then all the bills will be taken care of, and let me say, they were/are!
So with 6 weeks left, 5 more clients to see, I feel like I am on my way to one of the most humbling "jobs" ever. Being a counselor, despite what anyone says, you don't know all of the answers, you might mess up a time or two. I am not sure how you don't seek counsel from God, or why you wouldn't look to him for the words and wisdom you should give to your clients.
I am trying to brief, but how do you summarize your passion?? Let me leave you with these verses, they are another reason why I desire to be a counselor.
"
All praise to the God and Father of our Master, Jesus the Messiah! Father of all mercy! God of all healing counsel! He comes alongside us when we go through hard times, and before you know it, he brings us alongside someone else who is going through hard times so that we can be there for that person just as God was there for us. We have plenty of hard times that come from following the Messiah, but no more so than the good times of his healing comfort—we get a full measure of that, too."
2 Cor. 1:3-5
One more thing, if I am blessed enough to ever start my own practice, I am going to call it
Restoration Counseling Ministry
.