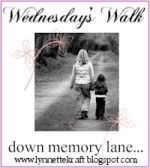 Eleven years ago today, at 8:12am my brother died. On July 6, 1998 my brother, Andy, came home to surprise my dad for his birthday. See my brother went to college 3 or so hours away from home. He had a job down there and an apartment, so he just lived there year round. I was at church camp that week helping out in the kitchen. So I didn't get to see him, but I was able to talk to him once on the phone. That night he drove back to his apartment and on the way someone turned in front of him, ultimately ending his life. Andy was airlifted to a hospital in Columbus, Ohio. He never regained consciousness. He would have survived with his outside injuries which consisted of a broken leg, a broken wrist, and some cuts and bruises. But it was what was on the inside that we couldn't see that ended his life. The brain is a tricky organ, and it sure tricked us a lot. My brother's brain was so swollen that they literally had to lift a flap of his skull back to relieve the pressure. We had a lot of false hope that week from the doctors. It was so very hard to remain positive, especially for all of the people who came down to visit us. Then on July 15, 1998 we took him off the ventilator. Andy was only 22 then, and he had a living will. His will stated that he did not want to be kept alive by machines, if he could not read or write, then he did not want to live. My brother was majoring in Creative Writing. That's all he wanted to do was write, words were his passion. So my parents had to honor his wishes and he passed right away after the machines were turned off.
I don't want this walk to be a painful, slow, agonizing walk through all of my awful memories of a 14 year old girl. This is not a Judy Bloom novel. I want you all to meet the most wonderful brother a girl could ever have. I want you all to smile with me and feel so blessed that I introduced you to Andy May.
My brother was 8 years older then me. My parents had Andy when they were very, very young. Then they experienced 3 miscarriages between the two of us. I was their miracle child, and trust me, I never let them forget that. My brother was at a birthday party when I was born. He was not very interested in me at first, but I soon captured his heart. My parents often had to remind him that they were the parents, he was just the brother. Overprotective might be an understatement. I was always that tag-along sister, despite the age difference.
This is my brother and his very best friend, Parker. We are still in touch with Parker today. After Andy died we started a scholarship in his name at our high school. Parker sits on the committee with me and helps select the recipient each year. Parker meant a lot to my brother and I feel so blessed to still have him in my life.
Don't laugh at my poofy bangs! They were so cool in 1997, or at least I thought so. This was at Christmas, 7 months before Andy died. This was our last picture together. You can tell he was thrilled to up super early on Christmas. Despite his cool, nonchalant exterior, he was super soft and warm on the inside.
I think this was the last known picture of my brother. He got this tattoo in May of '98. It is an incongruency sign. In math terms it means not equal, but to my brother it represented mankind. We all are different, yet we all are equal, we all are striving for the same things. Andy was an organ donor, but since his tattoo was less then a year old, we were unable to donate any of his organs because it takes a year or so for the ink to absorb into your blood. This made us really sad, but we understood. Last year on the 10th anniversary practically everyone in my family got the same tattoo that my brother had. Plus a ton of his friends have it too. Talk about a lasting legacy.
See this is who my brother was, he could see your soul by looking in your eyes. He had that way of showing that he cared without using any words. I know this because at the visitation and funeral we had people come who only met Andy once, but he made such an impact on them, that they wanted us to know about it. I would say that my brother was not deeply religious, he believed in God, and was involved in youth group stuff growing up. So I am not going to stand here and say he went to church every week and fed the homeless, but I do know that he had the same love God has for us. My brother just genuinely loved people, he loved their stories, he never judged anyone, and he did whatever he could to help you out, even if it meant he would go broke himself.
I miss my brother everyday, oh, I miss him terribly. I would love to know what he would say about certain things, or the advice he would give me. I know he would love Molly beyond words. I know life would be so different if he would have lived. I still ask God why. I still get upset and angry that Andy was taken from us far too young. But I also look at our situation as a way to keep living everyday to its fullest, not to get mad about dumb things, and to always show love and kindness to others.
My brother impacted more lives then I will ever know, who have you made an impact on?