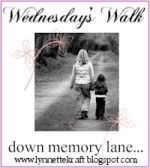 For today's memory, I would love to introduce you all to my very best friend in the entire world, Adrienne. We have been friends since we were five, so twenty years later, we are still best friends. We have been through our share of petty fights, big fights, your are not my friend fights, as well as I am so glad I could share this moment with you. Since getting married and having kids, our relationship has grown so much. I think we are closer then we have ever been, and I am so thankful. I call her everyday, even if it is just to leave a message to say, guess what I just saw at Wal-Mart. Last summer Adrienne and her son Titus came to visit us. We had a great week, despite Molly having the worst case of diarrhea known to man kind. But you get to share all of that gross stuff with your best friend.
This is us. Actually this was her last day in the great state of Cheese. I was just a little too lazy this morning to rearrange all of the pictures!
Us and the kids. Molly was born in August and Titus was born in November. They will be best friends too, already decided.
Addy, Molly and Titus...what a great friend!
Posing our children, we were very inexperienced moms, we thought they actually would sit still and smile for us!
Molly and Aunt Addy at one of Eric's kickball games. Yes, he is 26 and still plays kickball :)
Best Friends, Second Generation
Now we have a new baby in the mix, Malachi. He was born at the end of April. I have yet to meet the newest addition, but we have plans to be reunited. Addy and her husband, Jed, just moved to Florida, and they are trying to sell their house in Kansas. They are also in the ministry. Please pray for them to sell it quickly!
Thanks for sharing my summer memory with me today, and I am so glad you all got to meet Adrienne, truly my better half, best friend, and my sister in Christ.