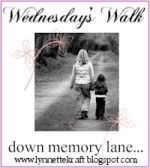 For today's walk, I am going to remember the day of my step-dad's surgery. I know it was only last Wednesday, but this was the most memorable thing striking me at the moment. Plus I wanted to participate today!
We had to get up super early for the surgery. We left my parents house around 5am. I haven't seen 5am since I was a nursing mom, and that was a long time ago! I remember walking downstairs to get coffee and telling Phil, "you better be glad that I love you so much, because I should sleeping!" We all had good spirits that morning and I had a surprise for Phil. He loves The Beatles. Love might not begin to describe his feelings towards them, but put it this way, he loves them in every sense of the word! After I got back from NY the first time, I saw this Beatles shirt that I knew I had to get and wear for Phil. So here we are...
But my Mom had a surprise for Phil. She got him a new Beatles t-shirt to wear on his surgery day. PS-I think I totally forgot to tell you all that the first time I went to NY, I got a little over 5 inches cut off my hair!
The surgery as you all know was a success. God answered ALL of our prayers and then some. Phil is scheduled to come home Friday, if all goes as planned in rehab. But still, a week ago someone was touching his brain, and now he is practically back to normal!
"Give thanks with a grateful heart, give thanks..."