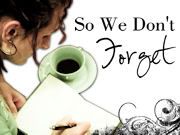 This week on "So We Don't Forget..." That sort of sounded like a soap opera...we are supposed to write about the first place you lived after you got married. I have pictures somewhere, and I have been racking my brain and searching everywhere to try and find the disc that they are on, but I have had no luck, so you will just have to imagine as you read along!
Eric and I graduated college on May 13, 2005, we were married on May 28, 2005 and then started our first ministry on June 6, 2005. That's a lot in 3 weeks! Plus we had a honeymoon in there. So when we graduated college we already had our job in Cincinnati, so we went down there one day to look for an apartment. Because we did not have a pay stub from Eric's job, we had to take the minister from the church with us, so he could vouch for us, and prove that Eric would be getting paid, so we could pay the rent! We were so naive, and young, well at least I was!
After looking tiresomely, we finally found a place that we both liked, it was nice, affordable, and safe. The place we lived at in Cincy was a suburb, and a place fancier than where Eric and I grew up. So I was a little culture shocked and shocked at the rent payment. We found ourselves a cute little 1 bedroom apartment, on the 3rd floor, yes-what were we thinking?!, and it had high ceilings, which I loved because it did not seem so apartment like. We had a little galley kitchen, utility room with washer and dryer, and a nice sized bathroom. The best feature was the closet, it was huge! We have not had a closet like that anywhere else we have lived!
When we were first married we would sit on the floor around our coffee table and roast s'mores! That was one of my favorite things to do, and probably the reason why I gained 25 pounds after we got married! We didn't have cable, and we hardly knew anyone, so it was just the two of us. I miss those days, life seemed a whole lot simpler when it was just you and your spouse, and you were still getting used to living together. Although I had known Eric since I was in 3rd grade, I had never lived with him before and man that was a wake up call! Boys are gross, and smelly, but they are also sweet and kind.
Another couple moved in across the hall, and they had just gotten married also. You know how I know that-well, one day we were going to run some errands and we walked out of our apartment and up the stairs comes this bride and groom, they literally had just gotten married and were coming back to their apartment to clearly...read the Bible, duh, LOL, so as they are literally running up the stairs, I ever so brilliantly say, "did you just get married?" Duh, they just looked at me and I said "we just got married too!" I am pretty sure Eric turned every shade of red and was pushing me to get down the stairs faster then humanly possible because I just made a fool of myself!
Good memories were made in our first, humble, little apartment!