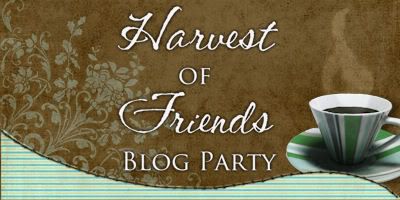 Lynnette over at
Dancing Barefoot on Weathered Ground
is hosting another blog party...sound like fun, want to join in, meet some cool people? Then click on the button above and get going! Here are my answers to the questions that she asked...
1. What is your favorite thing to snack on while you're blogging?

I usually blog after we eat lunch and when Molly takes a nap, so realistically I should be full, but sometimes I grab some chocolate
2. What is one thing you wouldn't want to live without?

My family

3. Beach, Mountains or Farm? Where would you live if you had a choice?

How about a farm on top of a mountain, close to water somewhere
4. What's your least favorite chore/household duty?

All of them, I don't enjoy cleaning, but I do it none the less

5. Who do people say you remind them of?

My Mom, and if I get, "oh, is this your sister?" one more time, good grief!
6. Prefer parties and socializing or staying at home with the fam?

Staying home with my family, inviting company over, but I do love a good party every now and then

7. What's your all time favorite movie?

Don't have just one, but I do love The Sound of Music or Just Married

8. Do you sleep in your make up or remove it like a good girl every night?

I try to remove every night, and I am usually successful 95% of the time, but there are some nights, I just go to bed with it on

9. Do you have a hidden talent or a deep desire to learn something that you've never had a chance to learn? What is it?

I would want to learn how to play the piano, or learn how to sew
10. What's one strange thing you're really good at?

Being myself, oh wait, you said strange, not scary

11. What first attracted you to your spouse?

Well I first met Eric when I was in third grade, but once we really noticed each other, I would say his height, and how easy it was to talk to him

12. What is something you love to smell?

Molly fresh from the bathtub

13. Tell something about you that you know irritates people.

Being too polite sometimes
14. When you have extra money (HA!) what's the first thing you think to do with it?

Probably spend it, maybe that is why we don't have extra money :)

15. Are you a silent laugher or a loud laugher? What makes you laugh the hardest?

I am a loud laugher, and I get the whole upper body moving too, I usually laugh at things most people don't, like when someone falls down, I laugh

16. Where is your favorite place to shop?

Wal-Mart with Target a close second

17. What's one thing you'd do more often if you had more time?

Read

18. Are you a big spender or frugal?

Both, I like a great bargain, but if it's something I will use daily and it's a good price, I will spend the extra money

19. Who is your favorite character of all time (from a movie or book)? (Can't be real)

Mary Poppins, she knows how to handle kids
20. Would you want to be famous?

No, nada, no thank you...I just want to serve the famous one-Jesus