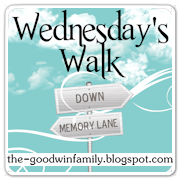 My memory today is this song...
It talks about when everything falls apart, God is our only our hope, He is mighty and strong. I find it so crucial to remember that on a daily basis, and especially this week leading up to Easter.
I pray you all are having a great week! I can't wait to be off tomorrow to finish catching up on everyone's blogs! I hope you are experiencing this beautiful weather like we are, I love Spring!