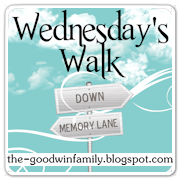 I was seriously struggling still with today's memory. What do you all not know about me?? I guess it's hard when I am practically an open book. But then Eric and I went and got lunch real quick this afternoon and it hit me. I love riding in the car, windows down, sun shining with Eric. Then I remembered this funny story that happened over 10 years ago.
When Eric and I first started dating he drove this white Dodge Daytona, we called it "The White Stallion." It was an older car, but Eric saved up all of his pennies and bought it. We thought it was the greatest thing in the world. We would drive around for hours, windows down, sun roof open, and just listen to music, or talk, and hold hands. We were two young teenagers in love. I look back now and think good grief, how could we afford the gas. But let me date myself here...when I started driving 10 years ago, gas was literally 89 cents a gallon. That makes me sick to think about it!
Okay, so to the funny story...
Even though Eric's car was a little older it was still blessed enough to have power windows and locks. Eric and I had not been dating too long (maybe 6-8 months) when one day we drove over a set of railroad tracks and the locks started going up and down and the windows at first locked up, then they went down, then back up, then down again, all while the door locks are still going up and down. I seriously thought we were going to die, or this was a really bad scene from a Lifetime movie. We both had no clue what was going. Then we started laughing, because truly, what else are you going to do.
After that day we drove my manuel windows and locks car around!