I feel like I have been out of the blogging loop for too long! I hate that! But I am back now, at least for a couple of days :)
I used to participate in a cute meme on Wednesday's known as "Wednesday's Walk." It was all about memories, and fun themes. I loved it, then life got busy and we all kinda drifted away. Well it's back now, thanks to
Jenilee
! I am very excited! However, I not participating today because it hurts my brain to try and think of something!
But I want to encourage you all to go over to
Jenilee's blog
and link up. I will next week now that I have it on the brain and can think of something.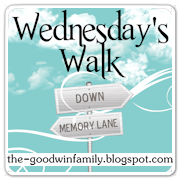 However, I will share these with you...
My life never gets old! Have a great Wednesday!