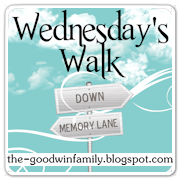 Today for my memory I
stealing
borrowing from my friend,
Steph
. She was reminiscing about her first date. I thought it was really fun to hear her story, so I figured I would use that as my memory today too!
Our first date was August 19, 1999. It was my half birthday that day and I have got my learners permit that morning. I am not sure who technically asked who out, but our parents were in the same Bible study and it was Eric's parents turn to host it at their house. So I think we both were like, well we will just hang out during the study. I remember my parents let me drive to Eric's house and I think they both thought they were going to die!
Once we got there, Eric and I decided to go to the reservoir, and then to a movie. The reservoir was fun, we just walked around and talked. I have no idea what we talked about, but I remember thinking I was the luckiest girl in the entire world. I had a crush on Eric since I was in third grade! We both fought like cats and dogs with each other growing up, and sometimes at church we each had to be talked to. Then we went to the movie "Brokedown Palace." I remember really liking it and then looking over to find Eric totally, 100% asleep! I didn't want to get mad since it was our first date, and he didn't really want to see the movie, but I was still like "Hello, this is our first date!"
Things slowly progressed after our first date, we took our time getting to know each other and spending time together, and with our youth group friends. Then on Nov. 7, 1999 we made it official, whatever that means in a 15 year old mind. But it was official friends, and we have been ever since!
PS-Eric still falls asleep during movies and TV!!