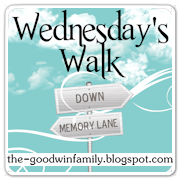 For today's walk down memory lane I am going to share a little bit of our vacation from last week with you all. On Sunday we (Eric, his parents, Molly, and me) drove to Toledo, which is about 45 minutes from where we grew up, and went to the zoo. I hadn't been to that zoo in a long time, and a lot had changed! It was packed full of people and really hot! But we managed, some how!
Then we left the zoo and headed for a hotel. Our main objective was to find a place for Molly to swim! She loves to swim, so we wanted to do something fun for her. So we stayed at a super nice place and swam! Then the next morning we got up and drove out to Port Clinton, where we took the ferry across Lake Erie to an island called Put'n'Bay. Again, a place I went when I was younger, but have not been there in a long time. We rented a golf cart and cruised around the island. We did whatever, whenever we pleased. It was so nice. We went on a Monday and it was also packed, I could not imagine a weekend there! We toured a crystal cave and winery, and had an awesome lunch of fish, yumm! And of course got salt water taffy, my favorite! They also have a merry-go-round there that Molly loved to ride! She rode it twice, and both times she was the only one on it!
All in all it was a really fun day!