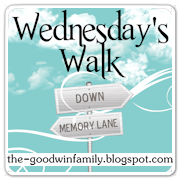 Last Friday was Molly's first speech session at the "big kids school." At breakfast we told her that she got to go to school that morning. She was so hilarious, she stood up and proudly announced, "I take my backpack to school!" I wish we taped her, she was so funny and so into going to school. Our new house is a block away from an elementary school, and with school starting last week, we have been watching all the kids walk by in the morning and all the buses go by. She gets so excited for them. I am sure the kids on the bus are not as excited as Molly is for their school day.
Molly is going to speech two times a week, once for an individual session, and once for a group session. Friday is her group day, and she is in a group with 2 other kids, both are in the 4K program that our school district offers. The teacher told us that Molly did wonderful, and was more advanced than the other two.
Eric and I walked her into the school last Friday, we were probably more nervous than she was! Once we got to the speech therapist's room she let go of our hands and walked right in. No bye, no hugs, nothing...I am going to be a wreck on the first day of Kindergarten!!
After Molly was finished with her cute little group she happily posed outside the school for her picture, backpack and all.